Late Shri Govinda Raju (Raz Andamani) was an unparalleled visionary with a sane and sound mind and clarity of thought. He left us on 19 Sept 2010 leaving us groping in darkness when we desperately need the light shone by him.
Raz Andamani, through his words and deeds has left an inerasable footprint on the Island's landscape that will keep enlightening the future generations. His struggle in life – both personal and public – never became an impediment in voicing his views and concerns about the contemporary developments. Although, nobody can remain impartial in a moving train, he was an embodiment of unprejudiced and balanced thought. In every development – social or political – he envisioned impartially the long lasting consequences and voiced it boldly without any intimidation.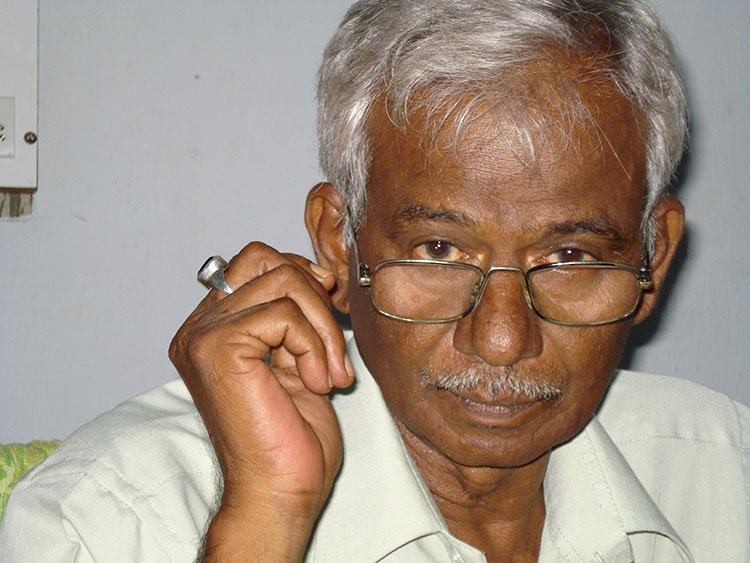 As a historian, a poet, a versatile writer and an accomplished orator, he single-mindedly struggled to awaken a population, slumbered under the pressure of colonial mindset. A keen admirer of Dr APJ Abdul Kalam, he asked us to dream, to visualize about a self reliant Andamans. His writings reflected his vision – a caste-less and class-less society. His thought provoking writings stirred the conscience.
He earned not many friends, but no one dared to question his reasoning. Loved and equally hated by many, he never tried to please anybody. He retold history through his writings, which demolished many myths floating around as history. He never glorified freedom fighters or demonized the occupant forces beyond reasonable levels. Raz Andamani met common people who were inconsequential for many and came out with facts that irked historians. He tried to change the rules of the game. His entry into their domain created a flutter.
His down to earth approach and passion for rural Andamans earned him many admirers. He had experienced the scent of life in the Islands. His prolific writings about childhood in rural villages rekindled the flame in old as well as young generations. He took them back to their past and walked with them through the narrow lanes of the rain forests and the muddy stretches strewn with nostalgic memories. He was a master story teller. His encounter with Jarawas, leeches and elephants would transport anyone down memory lane.
Raz Sb was far ahead of time. He could sense the growing crass consumerism, mindless pursuit of material gain and self-preservation dictating the lives of the Islanders. As a charged critic of corruption in public life, he advocated simple living and high thinking among the young generation through his charming oratory skills. He shattered the rhetoric by politicians that unemployment exists in the Islands. He forewarned them for their attempt of creating poverty which was not there. He saw enormous opportunities everywhere.
He could not contain his aversion towards the rudderless development taking place in the Islands. He blamed it on the system of governance, which he compared with Aristotelian God, who reigned but never ruled. His editorials provided a whiff of fresh air in the otherwise rotten state of affairs.
As an Urdu poet, he had more adversaries than friends. Nobody could fathom a man with Hindu name to be a Urdu poet. However, his anthology of poems in Urdu was published as "Kharapani." He ensured that the census staff marked his mother tongue as Urdu. Raz was nominated as a member of Sahitya Akademi by the Administration. He was successful in inviting great litterateurs like Prof Gopichand Narang and Shri Chanderbhan Khayal to the Islands and conducting seminars and literary sessions.
The intellectual vacuum created by the departure of Raz Andamani will remain unfilled. But, his vision and legacy shall echo everywhere through his writings and thoughts.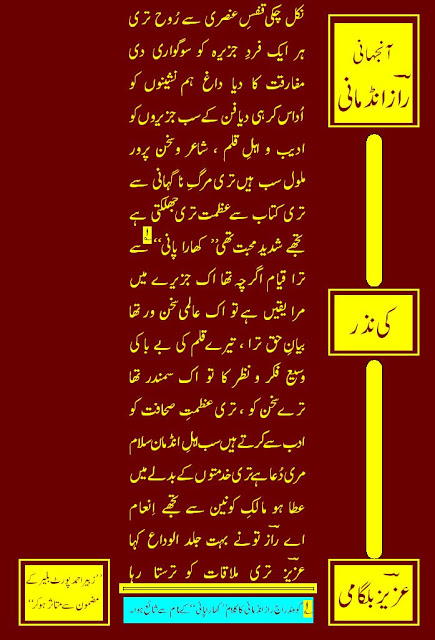 A POEM IN MEMORY OF RAZ SB
Nikal chuki qafse unsari se rooh teri
Har ek fared jazeero ko sogawari di
Mufariqat ka diya daag humnasheeno ko
Udaas kar hee diya fan ke sab jazeeron ko
Adeeb wo ahle qalam, shahir wo sukhn parwar
Malol sab hain margina gihani se
Teri kitab se azmat teri jhalakhti hai
Tujhe shadeed mohabbat thee "Kharapani" se
Tera khyam agarche tha ek jazeere mein
Mera yaqeen hai tu ek aalami sukhnwar tha
Bayane haq tera, tere qalam ki be baqi
Waseeh Fiqr-o-Nazar ka tu ek samundar tha
Tere sukhn ko, tere azmate sahafat ko
Adab se karte hain, sab ahle Andaman salam
Meri dua hai teri khidmaton ke badle mein
Ata ho malike konain se tujhe salam
Aye Raz, tune bahut jald alvidah kaha
Azeez tere mulaqat ko tarasta raha
(In Memory of Raz Sb by Azeez Belgaumi, Bangalore)