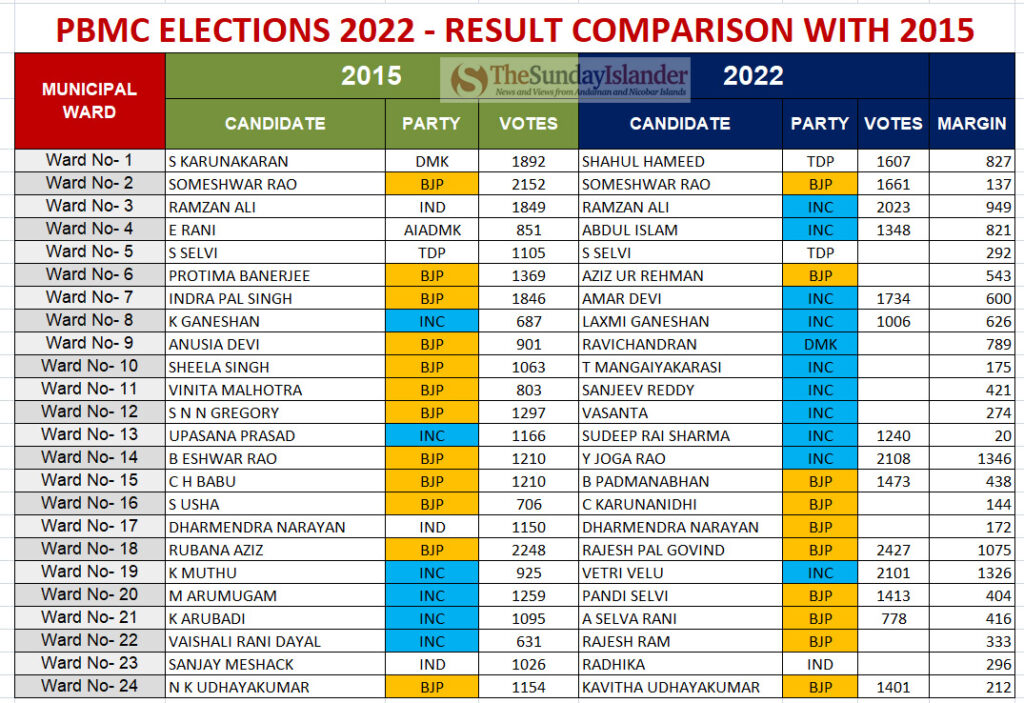 By Zubair Ahmed
Despite so many cooks, capable of spoiling any broth, and a vertically and horizontally split leadership, capable of pulling down any chances of victory, Congress has emerged from the fringes as far as PBMC elections are concerned. Congress fought only 19 seats and won 10 out of it. Five seats were shared with its ally DMK, which could only win one seat.
On the other hand, BJP with all the band baaja baraat won only 10 seats out of 25 seats contested. Losses in some wards like Ward No 9, 10, 11 and 14 are irredeemable.
In Ward No. 13, the Congress candidate Sudeep Rai Sharma won by a meagre margin of 20 votes, but is a huge leap from last election, when the Congress candidate Upasana Prasad had won by just one vote!
As far as the formation of the Council is concerned, like in 2015, TDP holds the card, which won two seats. Shahul Hameed, a Congressman from Ward No. 1 was left with no choice but to join TDP, when, after a wait of seven years, the seat was allotted to DMK. Though DMK candidate had defeated Shahul in the last elections, as a TDP candidate, he defeated the Congress-supported DMK candidate this time.
Compared with 2015 results, while BJP retained six out of 12 seats, Congress retained three out of six seats. Incumbency factor has affected both the parties. Though, BJP has saved its face from a complete showdown, the result is a tight slap with the mega campaign planned and executed, and leaders and actors from mainland engaged in door to door canvassing.
BJP publicly maintained and manifested the face of its leadership with Bishnu Pada Ray, Vishall Jolly and Ajay Bairagi seen together all the time, despite all the differences.
The leadership in Congress, however, has been a damp squib since last general election. And, the differences were quite obvious even today, as there was a squirmish in the party headquarters. The leaders – Ranglal Haldar, T Bhaskar and Kuldeep Rai Sharma were never seen together. The result of this election may be an eye-opener for the trio to realize the opportunity that lies ahead, when the territory goes to poll in 2024.
As of now, Congress+ has 11 seats and BJP 10 seats. Two TDP seats and one independent will decide who will form the Council.
The drama goes on even after the curtain falls on the urban body elections.