Journey of a hale and healthy boy whose little oversight cost both his arms
By Debkumar Bhadra
It was Thursday, 21 June, 2018 when Gaurab Kumar Paul, fondly known as Bittu went out to lend a helping hand to his village mate wind-up a function. The task at hand was to remove an array of alternate Bamboo and Galvanised Iron (GI) pipe poles planted on the road side to install light fittings decorating the pathway to the premise where marriage reception of his friend was hosted the previous night.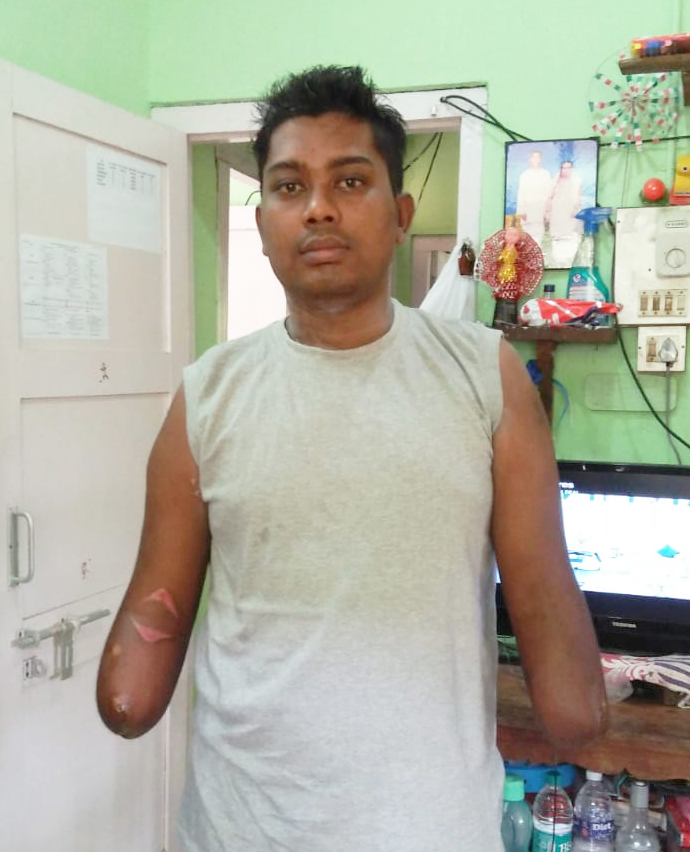 When Bittu reached the spot, work was underway. Some of the poles have been removed and his friends were working on the remaining ones. He joined them by pulling out one himself when his friend, next in the line received a call on his phone and left the GI pole he was working upon, to answer the call. Bittu grabbed the GI pipe which his friend has left half done with both his hands and pulled it out of the hole when a loud cracking noise was heard with sparks flying off live High Tension (HT) electric power lines running overhead.
The GI pipe, which Bittu had in his hand, came in contact with live overhead power line. In a short while, power supply went off apparently due to the short circuit. Before anyone in the vicinity could reach out, Bittu fell on the road with electric shock inflicted burn injuries on his palms, hands, and thighs. Villagers rushed him to Community Health Centre (CHC) Bambooflat from where he was referred to GB Pant Hospital Port Blair the same day.
Nine days later
After receiving treatment at the burns ward of GB Pant hospital for little over a week, he was referred to Government Stanley Medical College at Chennai for specialised treatment. Upon reaching the hospital, it became clear that getting treatment at the facility is going to be a time taking affair. Severe pain and the fear of gangrene progressing further prompted the decision to shift him to Apollo Hospital Chennai where the Right arm was found unviable and amputated below the elbow.
18 days after the mishap
In a bid to salvage the Left arm, Bittu's parents decided to shift him to Mallige Hospital at Bangalore. Unfortunately his left arm also went unviable and had to be amputated below the elbow making Bittu a double amputee at a young age of 29 years. Ensuing trauma and associated psychological stress pushed the once hale and healthy boy to retreat into the shell.
On his arrival to the islands, he refused to return to his home or meet anyone and took refuge in his maternal uncle's home away from the village. His parents approached the concerned at the Directorate of Health Services (DHS) requesting reimbursement of treatment cost which ran over 10 Lakhs. Their request was rejected on the ground that the patient was shifted to another hospital (from the one originally referred to) on their own accord. Later ex-gratia help of Rs 1 Lakh from LG's relief fund brought some relief amid the gloom.
Born on 16th November, 1989 to Mrs Renuka Paul, an Anganwadi worker and Mr Gopi Nath Paul, a retrenched employee of the erstwhile M/S Andaman Timber Industries (ATI) and now a daily wage earner, Gaurab is the couple's younger child nicknamed Bittu. I have seen him play as a toddler and grow to adulthood in my small neighbourhood. However these days he is seldom seen outdoors. As a courtesy call, I checked on him last week when I got a shock hearing that due to financial constraints he is unable to undertake the journey to the designated referral hospital at Chennai to get prosthetic hand fixed.
With tears rolling down her cheek, Mrs Renuka Paul laments, so far we travelled seven times to one or the other hospitals at Kolkata and Chennai in connection with his treatment. Whatever little savings we had including the financial help and borrowings from relatives, friends, neighbours and villagers, every penny has been spent on his treatment. With very meagre income and debts in the form of borrowings running several lakhs, we have none left to look forward to any kind of help.
Recalling the day, Gaurab says, it was in the morning when the mishap took place. He remembers he could see everything clearly, but couldn't speak a single word at that instant. Had the fuse at the nearby supply transformer site not blown off, situation would have been grave. He adds the initials days were extremely painful. With time, not only he returned to his home in the village, he also learnt to cope up with the disability. Recalling the support received from the then Hon'ble MP Shri Bishnu Pada Ray, Doctors at GB Pant Hospital, Shri Vishal Jolly, Miss VK Mariam Bibi, Shri P L Modi of M/S Manish Enterprises, Mr Swaraj, Humane Touch NGO, relatives, many unknown donors and friends in the village he said he is indebted to each and everyone who stood by him.
He records his gratitude to Shri Chetan B Sanghi, Chief Secretary A&N Administration for allowing him assistance of a scribe to appear for Part-II of MTS recruitment examination.
Though his name did not feature in the list of successful candidates, he is optimistic that in the days to come he will be able to engage in some kind of work and urges the A&N Administration specifically Director RD/PRI that one room in the under construction GP Shore Point Shopping Complex near Bambooflat jetty parking lot be allotted to him on priority so that he could earn his livelihood and lead a life without being dependent on others.
Administrative reasons and Corona effect
Subsequently, under the Andaman and Nicobar Islands Scheme for Health Insurance (ANISHI), Gaurab was referred to MIOT Hospital at Chennai for Myoelectric hand prosthesis on cashless basis. He presented himself at the hospital wherein measurement for hand prosthesis were taken. He was advised to return to his home in the islands and wait for a call from the hospital which never came. Inquiry with the officials at DHS revealed the referral has been cancelled due to administrative reasons.
Bittu was then referred to AMRI Hospital at Kolkata for treatment on cashless basis in terms of MoU between AMRI Hospital and DHS. A reluctant but optimistic Bittu undertook the journey to Kolkata with the hope to get hand prosthetic fixed. Unfortunately this referral also did not fructify, again due to the administrative reasons.
The third referral then came in the month of February 2020. Bittu proceeded to Dr Kamakshi Memorial Hospital at Chennai wherein after taking hand measurement he was sent back with the advice to return after arrival of the prosthetics. During early March the hospital asked him to report for hand fixation. Bittu reported, but arrival of prosthetics got delayed due to restrictions in flight operation in the aftermath of corona pandemic.
Back in A&N Islands, this was the time when prohibitory orders and other restrictions were imposed. Also he came to know that domestic flight operation between mainland and island is going to be suspended to prevent the spread of corona virus. Fear of getting stuck in a guest house at mainland with meagre financial resources at disposal was writ large. With a heavy heart, Bittu had to return to the islands on the last day of mainland-island flight operation. Since then he had been clinging on to a faint hope that someday he will be able to garner resources to travel again to Chennai and get the elusive prosthetics fixed.
When I shared the predicament that Bittu and his family were facing due to abject poverty, with my peers in the village, everyone agreed we need to do whatever was required to help Bittu get a pair of prosthetic hands and attain some sort of autonomy as far as day-to-day routine is concerned.
Coordinator at the referral hospital confirmed the prosthetics are ready. Hence formal appointment was sought from the hospital. Say it luck or mere coincidence, the date given for hand prosthesis happens to be his birthday. With the view to make Bittu's 31st Birthday a special one, the date was accepted. Air tickets and financial assistance required to cover incidental expenses for Bittu along with one attendant was arranged and both of them were given a warm send off.
As on date Bittu is training with prosthetics at the referral hospital at Chennai. Back in the islands, his family members and friends are eagerly waiting to accord Bittu a grand welcome into the village.