By Prof. Clare Anderson
At the start of the year 2011, I came across two boxes of letters in the archives of the India Office, in London. The letters dated from 1874-77, and were written by the Reverend Thomas L.J. Warneford, who at that time was part of the colonial administration of the Andamans penal colony.
Forbidden to proselytize amongst the Indian convicts, his role was to minister to the Islands' British residents, from the elite classes (chief commissioner, senior medical officer and so on) to Anglo-Indians and ordinary soldiers. Among his achievements was the setting up of free education for the children of convicts – who were growing in number even as early as the 1870s.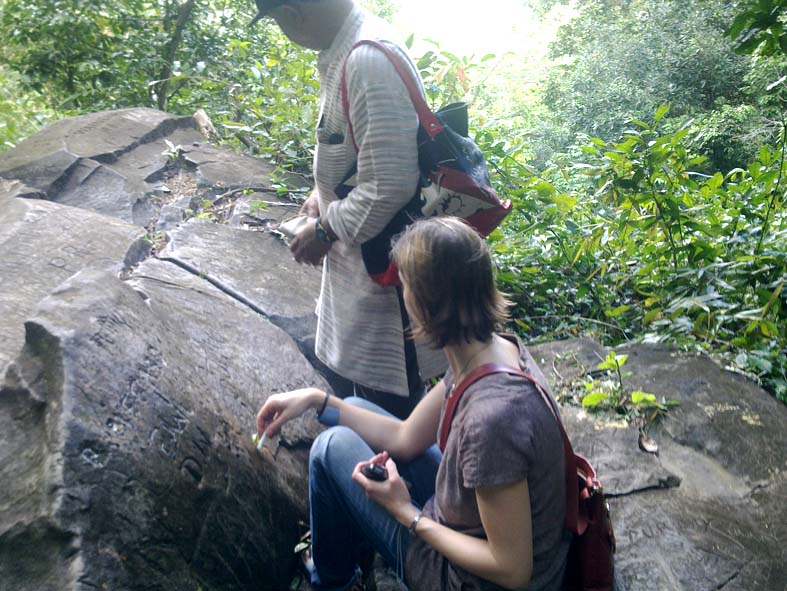 The letters were from Warneford to his daughter, Maude, who following a childhood in India and the Andamans had returned to England, aged 10. The letters are deeply personal and affecting. The reverend calls Maude his 'little woman,' sends news of household pets – dogs, rabbits, cats, goats, parrots, pigeons and even a tortoise – and writes in detail of the garden that they had created together. He describes the scriptural readings, music and hymns sung in Port Blair's Christ Church. He frequently implores her to remember her experiences in the islands – the way she decorated the church altar for services, the chapatis she ate each morning for breakfast, the friends that she had made. He passes on Maude's greetings to their convict boatmen and servants, and reminds her that she used to teach them their 'English letters.' He tells her that a recently released convict servant 'wants to go home with me … to see Miss Maud or Missie Baba as he calls you … He often talks of you.' Finally, father often signs his letters with row upon row of kisses, with sighs about how much he misses his daughter, and that he hopes to see her soon. He thanks her for her many letters, and complains that Maud's older brother, Reggie, also by then in England, does not write to him as often as he would like.
Beyond the pain of the separation of father, daughter and son, we learn also from the letters of the family's tragedy – the death and burial of the reverend's wife (Maud and Reggie's mother) in Calcutta. He sometimes lists the contents of parcels that he has posted to England, gifts for his children including personal items that once belonged to his wife and now gifted to Maud – a brooch, a fan, a shawl, a comb.
Father and daughter also sent small items to each other, as the reverend reminds Maud of their life together in the Andamans, and Maud tells her father about her efforts at English gardening and other pursuits. Peacock feathers, pressed flowers, ferns and photographs … tiny fragments of history fell from between the creases and folds of pages, untouched by human hands for over one hundred years. And then my eyes came to rest on one letter. Dated 4 May 1876, Warneford describes to Maud a visit to the local beauty spot, Mount Harriet. He reminds her of the many happy times they had there, collecting shells and catching pigeons on the way. 'Went to the "rock" … and cut out your name MAUD about 4 inches long,' he writes, 'Reggie's is also there.
'With a research trip to the Andamans imminent, I made a careful note to go and look for it.
The author teaches at University of Leicester